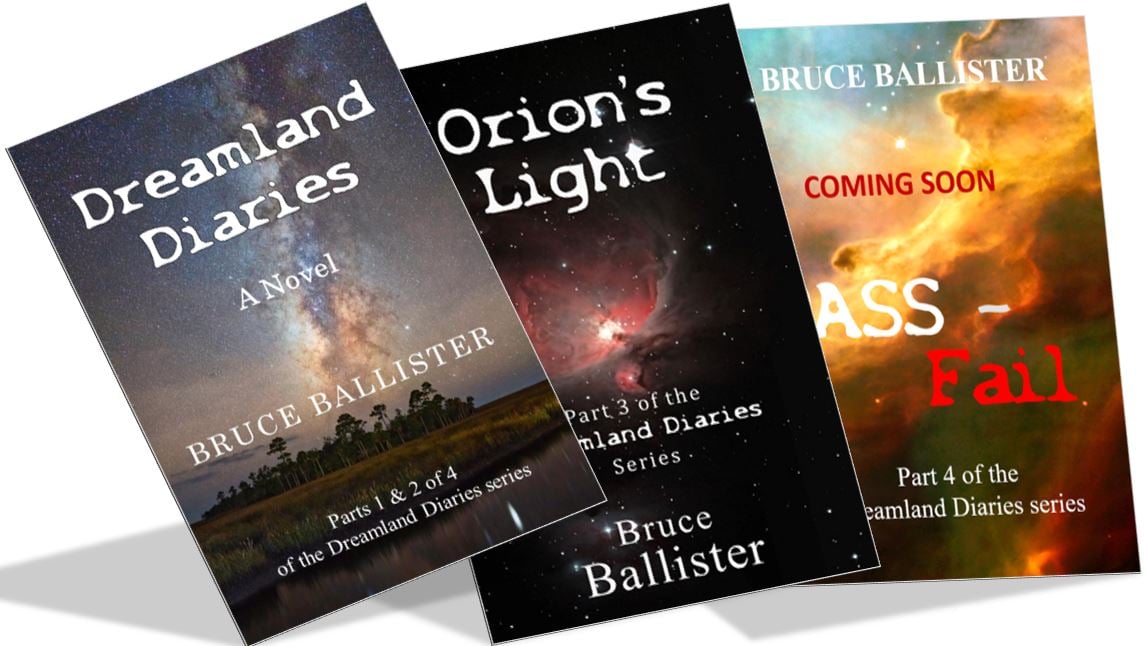 Welcome to Ballister Books. My first website, developed about eight years ago, served my first book and its sequel.
Dreamland Diaries
and the follow-up,
Orion's Light
follow Brad Hitchens and Connie Chappell on a journey that starts in the pine woods of North Florida. Their discoveries and new talents will fundamentally change humanity's worldview and its place in the cosmos. Both are good reads and I recommend them, the final part of the four-part series,
Pass-Fail
is in production and should be available by the end if June if not sooner. But I've branched out. This new site, I hope will better serve my readers.
Room for Tomorrow
retains my desire to instruct my readers on the relationship between humans and our planet while taking on the challenge of informing while entertaining. This planet has evolved over the millennia with no species that had the power to rapidly alter the course of its environment with minor exceptions. Humans have, in the past two hundred years, altered the precious balance of natural forces that have enabled life to prosper in the thin bio-sphere on the surface. Room for Tomorrow takes a (novel) approach, to understanding how our individual activities and current social norms need to change if our grandchildren can hope to exist in and pass on a survivable ecosystem.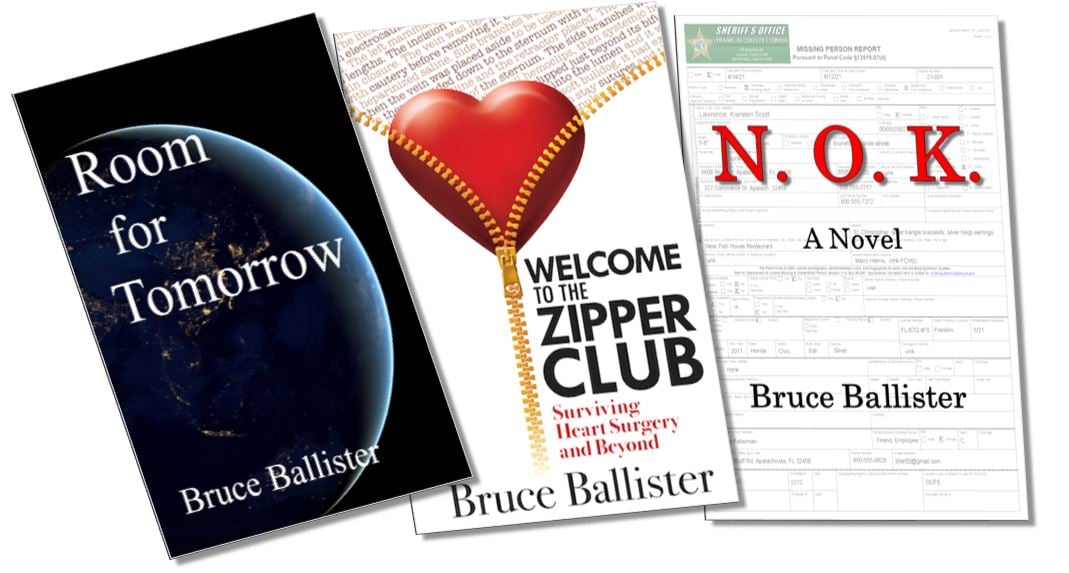 N. O. K.
is cop talk for next-of-kin. A nineteen-year-old coed has disappeared. A discredited reporter has returned home in the midst of his mid-life crisis and finds himself pinned by the local sheriff as one of his prime suspects. Recently orphaned by the early death of her mother, Lindsey Lawrence's estate is up for grabs with no known next of kin. Can our reporter use his skills to find her abductors to clear his own name? His search to uncover her mysterious family tree uncovers her unknown wealth and much more. The sequel is underway at this time.
Welcome to the Zipper Club
, was 'inspired' by my diagnosis of atherosclerosis, common name, clogged arteries in the heart. It is a plain-speak, easy read for someone who is or has a family member in need of the kind of information I found to be lacking. What should I expect from the experience of open-heart surgery? How should I prepare for it? How will I recover from it? How can I prevent a return trip to the OR and the cardiac ICU? I sincerely hope you don't need this book, but if you or your loved one does, there are plenty of tips and tricks for expanding your chances of a much longer and healthier life.
You're almost 15, a loner, and you've found a strange metal artifact in your back yard. And you know humans didn't make it. What would you do? Brad Hitchens must face this decision with the help of an extended family he hardly knows, and a stranger in the woods that defies understanding. Keeping his discovery safe until he can make its secret known will lead him to his first love and a change in humanities view of its place in the cosmos.
Parker Parrish, approaching middle age, is unhappy with her life's choices. Two chance encountes, one on the Los Angeles freeways, the other in a secluded farmhouse leads her onto a fulfilling, yet dangerous path. She's been given a glimpse of the future and it is a horror show. Can she and her new associates bring about meaningful change? Can the small room in a California farm house make Room for Tomorrow?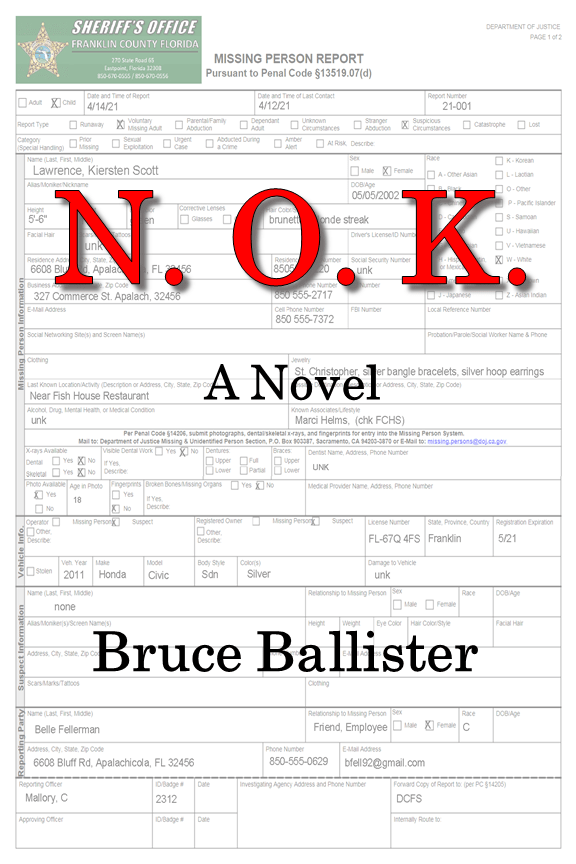 You return to your home town for the first time in decades to find you're are one of two prime suspects in the disappearance of a beloved local coed. Kiersten has no apparent beneficiaries so discovering who might be a benefit from her estate may be the key to your freedom. Jason Saylor, a disgraced reporter for the Houston Chronicle, needs to turn his researching skills toward saving his own life.
The Zipper Club's name is a reference to the 800,000 coronary artery bypass pro- cedures performed each year. Two years ago I joined the club. In preparation for the date of surgery, I didn't find too much more than bullet lists. This book can make your recovery much easier. If you follow my friendly advice, you may find too, that your chances of a long life after your surgery are much improved.
Video Link
Bruce Ballister is a life-long fan of books, reading authors from multiple genres. It's no wonder then, that his output reflects that variety. He is a fan of the classic sci-fi writers, such as Clark and Heinlein as well as the newer generation of science fiction writers including S A Corey and Andy Weir. His crime novel, still in the works, is a tribute and result of his enjoyment of Michael Connelley's Bosch series as well as the international intrigues of Ludlum, Brown, and DeSilva. His one foray into non-fiction is a result of his brush with heart disease. Still the number one killer in the developed world. He resides in North Florida, one of the still unspoiled corners of planet Earth, with his wife of 25 years, and an 80lb puppy.
Don't take their word for it ... read the books and write your own.
Your reviews greatfully appreciated on amazon.com and goodreads.com or whenever you discuss books with your friends!
Dreamland Diaries:
"NO SPOILERS! I've read over 500-750 fantasy books in my life and this is the first time I've been inclined to write a review! I met this author recently in his hometown and was impressed enough with him to buy his book. I can not express how incredibly difficult it is to impress me with a fiction read, and especially when what I'm reading is not in my favorite reading genre; epic fantasy. The characters in this book are very believable, the terminology used by the characters is also from real life, and the plot continues to grab you throughout. They are logical plot twists combined with realistic and intriguing challenges for the character throughout the book. To give you an idea of how impressed I am, I finished the first book in 5 days!" BUY THE BOOK!"
K. Dillard
Amazon Reader Review
Dreamland Diaries:
"As I began Dreamland Diaries, I found myself thinking, "What the…?" I soon "got it" and was hopelessly hooked. This is an extraordinary story, encompassing the coming of age of young people in the richly-described Gulf Coast panhandle of Florida. Ballister takes the reader from Wakulla and Tallahassee to Apalachicola and Roswell, New Mexico, and back to the Florida Panhandle. Characters, from the ordinary folks of North Florida to the shrimpers and fishermen of Apalachicola, are so well drawn that readers may feel they could climb aboard and be ready to crew. The unpleasant and very scary government agents are totally believable. Soon into the story, the suspense builds and doesn't let up until the mind-boggling conclusion, which left me salivating for the inevitable sequel. "Diaries" was one of my most satisfying reads of the year. It would make an awesome movie. Don't miss this one!"
Robert
Amazon Reader Review
Room For Tomorrow
: "A fast-moving plot and edgy characters provide the sugar that makes the grim picture of our future in the year 2214 easier to stomach. The novel also offers hope and a scientifically sound, well-researched prescription for what ails us.
His novel joins the growing canon of climate fiction, like Margaret Atwood's
Oryx and Crake
and Barbara Kingsolver's
Flight Risk
.
The sci-fi aspect of the novel is their stumbling onto a portal north of San Francisco that opens into another world. The world of 2214. A world so destroyed by environ-mental degradation, climate change, shortage of resources, and nuclear war that a few characters from the future time travel to 2020 to pilfer resources and knowledge that has disappeared."
Donna Meredith
Prize-Winning Author
"While
Room for Tomorrow
is both thriller and sci-fi, at its heart, the message it sends – the imperative to take action to save our Earth now – can't be overemphasized."
Kim
Executive Director, ReThink Energy Florida
Room for Tomorrow:
"Wow, what a ride. It just goes deeper and deeper into the unexpected. I know it has an agenda, but as a fiction piece, I was totally hooked by the characters and their solutions. A great good guy - bad guy cli-fi narrative on when doing the right thing means doing the wrong thing. If I say more, there will be spoilers."
Welcome to the Zipper Club
; "I was impressed with the way is written, to the point, factual, and in layman's terms. as one that has a long-term history of A-FIB. am always interested in other cardiac issues. Thankfully, mine under control and doesn't affect my activities. This little book can help lots understanding and coping with cardiac problems to include prevention. 5 Stars to the Author."
Jim K,
Amazon Reader Review
Welcome to the Zipper Club: "With this book, Welcome to the Zipper Club, Bruce Ballister has provided an honest and well-written chronology of his experience with heart disease, surgery, recovery, and the rehab process. This book is an easy read that I wholeheartedly recommend to anyone who is preparing to go through a similar situation. Welcome to the Zipper Club provides valuable information about what to expect – medically and emotionally."
Sarah M., RN
Amazon Reader Review
Your review could be here, if you've enjoyed reading on or more of my books,, hit the contact button above and submit yours, and don't forget to submit it also to Amazon if you purchased there, or on Goodreads.com.
Your name here,
New Reader